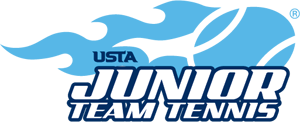 When your child is ready to compete, there is no better way to start than with USTA Junior Tournaments. Junior Tournaments are great for kids who want to test their games, get out on the court and make new friends along the way. There is local competition for kids of all levels?entry-level, intermediate and advanced?and as age and ability advance there are also national level tournaments.
USTA Junior Tournaments are offered in a variety of formats, including individual, team, non-elimination and elimination. This allows kids to compete in a way that makes them feel comfortable, that matches their level of play and helps them to experience success.
USTA Junior Team Tennis brings kids together in teams to play singles, doubles and mixed doubles against other teams. It promotes social skills and important values by fostering a spirit of cooperation and unity, as well as individual self-growth. Also, it?s a fun environment for kids in which they learn that succeeding is really more about how they play the game ? win or lose.
USTA Junior Team Tennis is designed for kids ages 5-18 and for players of all skill levels. After school or on the weekends, you can be assured that your kids are getting a lot of play time and all the benefits that go with that: exercise, time with coaches, sharpening skills in matches and much more.
Our 10 and Under Tennis programs introduce tennis to children based on age, physical size and ability. By modifying the court dimensions (36 feet or 60 feet in length), equipment (appropriately sized tennis racquets and red, orange or green balls), net height and scoring system, coupled with a play component, children develop better technical and point-playing skills.
Net Generation is the USTA's new youth (ages 5-18) tennis brand, dedicated to welcoming millions of new players to the game by focusng on empowerment, unity and play. In a crowded athletics market, inspiring and retaining new players at an early age is critical to any sport's success. Through a comprehensive program of adaptable curricula, teaching and learning tools, promotional and communication materials, and players and providers incentives, Net Generation aims to capture the imagination of kids of all ages, backgrounds, and skill levels, and bringing together parents, coaches, teachers, and volunteers all throughout the country.